2021 - TOGETHER AGAIN! July 31-August 2, 2021
See the new 2021 JUBILEE commercial here!
ATTENDEE REGISTRATION IS NOW OPEN ON-LINE!  Click on the "Attendee" button at the top of the page to register.  A printed brochure is forthcoming in the mail.
EXHIBITOR REGISTRATION IS OPEN!
Exhibitors can now register for the 2021 JUBILEE!!!  We are excited to be having the event in person!
Please click on the above "EXHIBITOR TAB" for more information, the Exhibitor Prospectus and to register.
Attendee Registration and Professional Development Schedule is coming soon!
If you have any questions regarding health and safety concerns, please contact Kim Barclay, JUBILEE Executive Director at 855-987-7469 or kbarclay@executiveoffice.org
Our theme for the 2021 JUBILEE is "2021 Together Again", as we will all be so happy to see each other!
Stay safe and happy!  If you  have any questions, please call the office at 855-987-7469.
Thank you!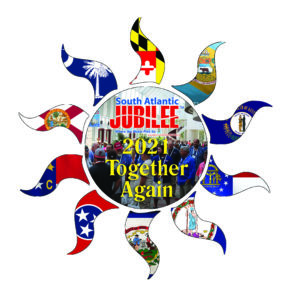 Sponsors
Thank you to our sponsors for supporting the South Atlantic Jubilee community and making this event possible every year!
SAVE THE DATE-JULY 31-AUGUST 2, 2021
About
"More than any other trade show in the water well industry, the JUBILEE is a people oriented event. Its founders started it to inform, educate, and entertain contractors and their families. In subsequent years hundreds have worked hard for the JUBILEE and thousands more have participated in it. Every one of these people should be recognized for contributing to the JUBILEE'S success."
(Kenneth R. Swanson, History of the South Atlantic Well Drillers JUBILEE)