ATTENDEE REGISTRATION IS OPEN!

JUBILEE Dates are July 30-August 1, 2022, Myrtle Beach
The Sheraton host hotel is SOLD OUT!

To view and download the attendee brochure that contains the class schedule, click

HERE
To register electronically on-line,

HERE
Friday, July 29 – North Carolina Contractors Exam – 9am-1pm.  Room 106  
Saturday, July 30 – All Day Professional Development
Sunday, August 1 – Professional Development 9am-2pm
Tradeshow 2:15pm – 6:00pm
Picnic – 6:30pm
Monday, August 1 – Breakfast 7:30am
Tradeshow 9:00am – 2:00pm
Our theme for the 2022 JUBILEE is "2022 Focus on Your Future".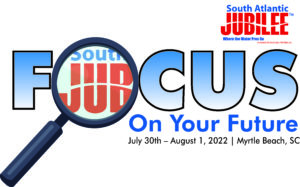 If you  have any questions, please call the office at 855-987-7469.
Thank you!
Sponsors
Thank you to our sponsors for supporting the South Atlantic Jubilee community and making this event possible every year!
About
"More than any other trade show in the water well industry, the JUBILEE is a people oriented event. Its founders started it to inform, educate, and entertain contractors and their families. In subsequent years hundreds have worked hard for the JUBILEE and thousands more have participated in it. Every one of these people should be recognized for contributing to the JUBILEE'S success."
(Kenneth R. Swanson, History of the South Atlantic Well Drillers JUBILEE)